18 HOLES OF BEAUTIFUL ST. LOUIS GOLF
IN PRISTINE CONDITION ALL GOLF SEASON LONG!
In a state where beautiful golf courses are around every other big Oak Tree… Far Oaks opened in 1998. It was designed by Bob Goalby and stands out from the crowd because of its well manicured Bent Grass greens, Zoysia Fairways and uniqueness of each side.
The land here was beautiful before we ever came along… add an excellent layout and then meticulously take care of it and you have the beautiful golf course that Far Oaks Golf Club is. Lee Miller, the Head Superintendent does an incredible job and is happy to answer any questions you might have about the maintenance, like our green and fairway punching schedule.
#1 is a 507-yard par five and slight dogleg left. Big hitters can reach this green in two and nothing's better than a leadoff birdie… except for a leadoff eagle. Keep your tee shot slightly to the left for a shorter approach. With your approach, if you're going to miss, miss to the left. #9 plays 545-yards from the back tees and 448 from the front, if you're going to reach this par five in two, you better get all of it from the tee. Keep your drive to the right of the bunkers on left. Avoid trouble left on the second shot and you'll have a chance for birdie before heading to the halfway house.
"True rolling greens, well thought out design, excellent condition, friendly staff, and a challenging yet playable course."

"We hear this again and again,
it must be true!"
If there's a hole where you need an accurate drive, it's #10, a 423 yard par four that doesn't leave much room for error. Not the longest par four on the course, but there's trouble left and right from the tee. The green is guarded by bunkers on both sides.
Just like the #1 starting hole, #18 is a 545-yard par five and affords the chance to make one more birdie, maybe to win one of the many Far Oaks in-house tournaments or possibly beat your friends on a Saturday morning, both just as rewarding. With water down the entire right side of the fairway, this hole could be dangerous for the right handed player that has the tendency to make mistakes to the right. Hit your drive left-center of the fairway then lay up short of the island grass bunker. This gives you a good approach shot to the green. A bunker guards the left side of the green and water is on the right.
The greens are generally protected on one side or the other with a bunker so strategically choose your approach and save a visit to the "beach" for your Florida vacation. Although we have recently removed a few bunkers to make our course much more playable for all skills levels. However, #2, #3 and #8 are completely surrounded by sand and force accuracy with your approach. This golf course challenges you to hit solid approach shots consistently on every hole.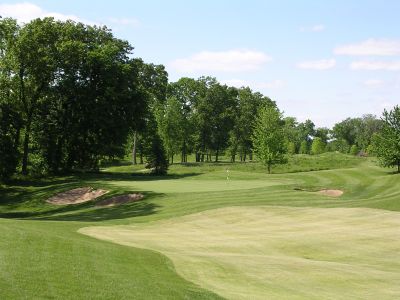 The most popular hole on the golf course is the par three 16th, it's downhill and plays 180 yards from the back tees. The green feeds to the left so start your approach on the right side of the green, a slight draw will play nicely to a center or left hole position.
You will enjoy the large, well-protected Bent Grass greens. The lakes, mounds, natural surroundings and numerous bunkers make Far Oaks a challenging yet rewarding experience.
"We hear this again and again,
it must be true!"
Address
419 Old Collinsville Road,
Caseyville, IL 62232
Contact Us
Phone:618-628-2900